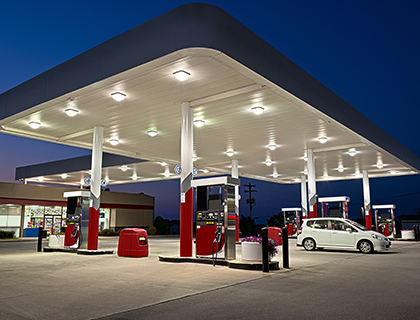 LED lighting can boost security, savings and help drive traffic to your stores.
By Brad Perkins, Contributing Editor
Like many companies, Ricker's knew what its stores looked like in daylight. But a few trips after dark were even more illuminating.
"We, as a team, went on nighttime site rides to really see what our stations looked like at night," said Aaron Gardner, director, wholesale fuel division, at the Anderson, Ind.-based chain. "We were able to get a better understanding of what the consumer was seeing. We knew what it took to get customers on the lot from 8 a.m. to 5 p.m., but our 5 p.m. to 12 a.m. customer base was dwindling, and after the night site rides we saw why."
The answer was lighting. As experts agree, lights do more than just illuminate a physical space. They invite openness, stress security and showcase products. But they can also go a long way in determining whether customers stop. So, Ricker's, which operates nearly 60 stores, enacted a plan to upgrade lighting in its stores.
"This is something that we have put an emphasis on at our dealer locations in hopes of increasing the evening business at all of our locations," Gardner said.
AFFORDABLE ENERGY
A powerful way to do that without breaking the bank is to upgrade to energy-efficient LED or solid-state lighting. The perception is that LEDs are costly. But prices have come down even as demand has risen to the point that the market's growth is predicted to reach $175 billion over the next six years, according to Research and Markets' 2017 Solid-State and Other Energy-Efficient Lighting Market by Technology study.
This trend is partially due to the cost of LED technology dropping, but also because these lights last longer than their regular counterparts, while offering more customizable options that convenience stores can tweak based on their needs. Driving this increase is the powerful mix of security and savings LED lighting brings.
"Two of the key drivers are the lighting has to offer cost savings and safety," said Frank Sharp, senior technical leader with Electric Power Research Institute (EPRI)'s Power Delivery and Utilization research team. "People are interested in cost-savings, and it's almost the same price now as a traditional product so it's an easy decision to make."
Pilot Flying J chose to upgrade based on a strong return on investment, energy efficiency and because the lights bring savings based on reducing electricity usage and avoiding maintenance costs.
"We are installing LED in all our new builds and remodels," said Bryan Martin, Pilot Flying J energy manager. "This includes all interior lighting, cooler doors, showers, restrooms and sales floors. On the outside of the building, we are upgrading the lights to LED in the parking lot, canopies and building soffits. Signage has been or will be converted to LED during the FEP process over the next several years at all stores."
Sprint Foods, which has 19 locations in Georgia and South Carolina, used a state government grant to partner with LSI Industries to upgrade lighting in its stores. The team replaced, on average, 26 canopy lights, 10 area lights, 30 interior lights and 12 cooler doors, installing new LED lighting and fixtures in all areas. The result was an average savings of $7,600 at each location and, just as importantly, a new, warmer look to the stores.
"What a difference in appearance, both inside and out; the perimeter and coolers," said Sprint Foods President Andy Jones. "It was instant improvement. From going from old metal halo bulbs to LED, even in sites where we didn't add additional fixtures, it was noticeable. And when you put new lighting in coolers, it makes all the product in coolers pop."
Moreover, Ricker's, which also worked with LSI to upgrade 75 of its stores with under-the-canopy LEDs, installed an average of 16 under-the-canopy LEDs per store, to complete the rest of its locations by the end of the year.
"The focus for us was cleaner, brighter looking stores," Gardner said. "This does tie into a more secure presence, and energy savings was an added bonus to the already positive results we saw. We are excited to see the impact that LED lights will continue to make on our sites, as customer traffic should likely increase and energy efficiency should provide sizeable cost savings over time."
LEARNING THE LINGO
The benefits of upgraded lighting are apparent. But how do stores get started?
"Look at different types of fixtures and decide on a company that has been in business for a long time and that is reputable," Jones said.
There are many things to consider in upgrading lighting inside and outside of the store, including two that may seem unexpected—lumens and kelvin. Lumens measure the amount of light that comes from the bulb. Kelvin measures the temperature of the lighting as it appears in a location. These are important for both placement and aesthetics. The higher the lumens, the brighter the canopy lights.
But lights inside the store should be softer and warmer because if they're too bright, it will feel stark and uninviting. But if they are too soft outside, it can compromise the security of the lot, dumpster and entrance.
And that's a key benefit of working with a reputable company that offers warranties and the range of products that are important to a successful lighting upgrade. They are able to provide support and options that cater to all companies. A lighting partner will be able to recommend lights, fixtures and bulbs that work for every operational area.
But just as important as a reputable partner is being open to the change.
"The big takeaway is think long term," Sharp said. "You'll have these products longer than the ones you're taking out. Think about it in broad terms, don't just think of it as a lamp.
Lighting is an investment in the store, and you want to be ready when prices come down and additional features are available."
Those additional features include controls like daylight sensors, motion sensors, GPS and internet connectivity and the ability to schedule for areas that may need more light at one point of the day and less at other times.
"(In) some stores you will see canopy lighting during the day not really providing any illumination—timers can remove that and extend the life of the lighting," Sharp said. "Color tunability is coming—changing light to warmer light in evening—that's costly now but becoming less costly. Maybe you don't want to put controls in today but maybe you will eventually. Think about where you want your store or business to be. A few more dollars now may have a longer impact."
Another way to reduce costs associated with a lighting upgrade is to check whether local or state governments offer rebates, like Sprint Foods did in securing rebates from Georgia Power for its upgrades. Because ultimately, the way the store appears is vital, regardless of the time of day.
"You want the store to look inviting," said Martin. "It needs to feel like a safe place to park, fuel and shop."
Other LED FACTs
For those dwindling number of retailers that haven't committed to LED upgrades in some form, here's a few additional facts also worth considering:
1. When LED light is used in delicatessen displays and in places with fresh food, it has been proven to breed significantly less bacteria than its halogen or fluorescent counterparts.
2. An incandescent lamp converts about 9-10% of the energy fed to it into light, whereas LEDs convert nearly 100% of the energy they consume as light.
3. LEDs contain no mercury— and at least 95% of an LED is recyclable.
4. LED lamps on average are not subject to serious damage from external shock. If you try this with an incandescent lamp, you're going to be cleaning up glass at least, and if it's a compact fluorescent lamp, not only will it break, there are mercury decontamination procedures recommended by the Environmental Protection Agency to follow.
Source: Kastor Energy March 2017